Monday, July 30, 2012 at 12:01AM
Tweet
You may recall the moment in the movie 'Men in Black' when Tommie Lee Jones says to Will Smith: "Fifteen hundred years ago everybody knew the earth was the center of the universe. Five hundred years ago everybody knew the earth was flat. And 15 minutes ago you knew people were alone on this planet. Imagine what you'll know tomorrow."
Whether or not aliens are living on earth, the scene captures how difficult it can be for people to accept a new idea that will wind up seeming obvious to people living hundreds of years from now.
Will the idea of global warming fall into the same category? Only time will tell. But when people look back on the summer of 2012, they may point to the wildfires in the US Southwest as an obvious sign that global warming was real.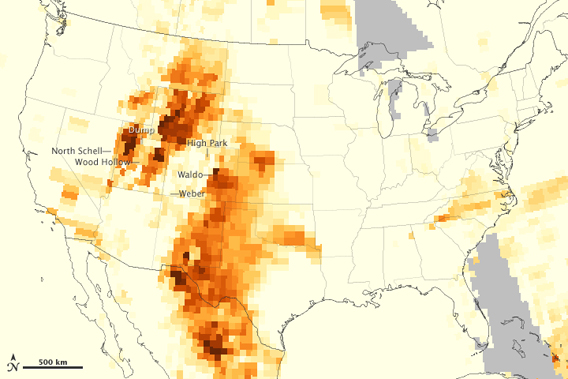 The map depicts the relative concentration of aerosols from wildlife smoke in the skies above the continental U.S. on June 26, 2012. Image by: NASA.
At least that's the suggestion of recent quotes from leading climate scientists. "I have no doubt climate change is playing a role" in this year's huge number of wildfires, Kevin Trenberth, head of the National Center for Atmospheric Research recently told a reporter. "Global warming has in general made (the US Southwest) warmer and drier than it would be otherwise," the director of Princeton University's Program in Science, Technology and Environmental Policy, Michael Oppenheimer, recently said.
Here's that 'Men in Black' scene:
To learn more about the possible link between climate change and this summer's wildfires, read this Mongabay.com article.