Monday, July 16, 2012 at 12:01AM
Tweet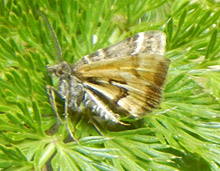 Photo via Mongabay.comEver wonder how a new species gets its name?
A lot of the time it's named after the person who discovered it.
But when a new kind of moth was recently discovered in New Zealand, the scientists who discovered it decided to let the public pick the name.
Out of nearly 100 suggestions, the scientists picked the name "Avatar."
Why? Because, they reasoned, Avatar was the name of a movie about a mining company that threatened to destroy a human-like species that knew how to protect the environment.
Ironically, the Avatar moth could soon be in danger, according to the scientists, if a mining company from Australia gets permission to start digging in its natural habitat.
To learn more, read this MongaBay article here.